DRY ITCHY SKIN RELIEF
Created by parents for baby eczema & dry itchy sensitive skin conditions including dermatitis, psoriasis & sunburn.

BEST OF NATURE
Aloevera, calendula and shea butter stop itchiness, cool and soothe. Grapeseed repairs. Sesame seed and vitamin e nourish and protect skin.

NO MESS, EASY USE
Award winning formula absorbs quickly and works fast. No waste. Hygienic. Recyclable.

TESTED. SAFE. TRUSTED
10 years of research & development. Laboratory tested. Parent tried, tested & recommended.
PHILOSOPHY
THERE'S LOVE IN EVERY DROP.
---
Providing the solution we needed as parents struggling with our boys baby eczema.
Works fast
Absorbs quickly
No chemical nasties
Proven and safe
Science and nature working together.
---
NATURAL
Organic and vegan-friendly.
A soothing, hydrating and moisturising cream for babies, children and adults with sensitive, dry, red, itchy skin including eczema, psoriasis, dermatitis, sunburn & keratosis pilaris.
Effective rapid relief
Skin healing botanicals
Proven & recommended by 93% of parents
Made in the United Kingdom
Free UK delivery
Hydrate, repair and protect damaged, dry skin the natural way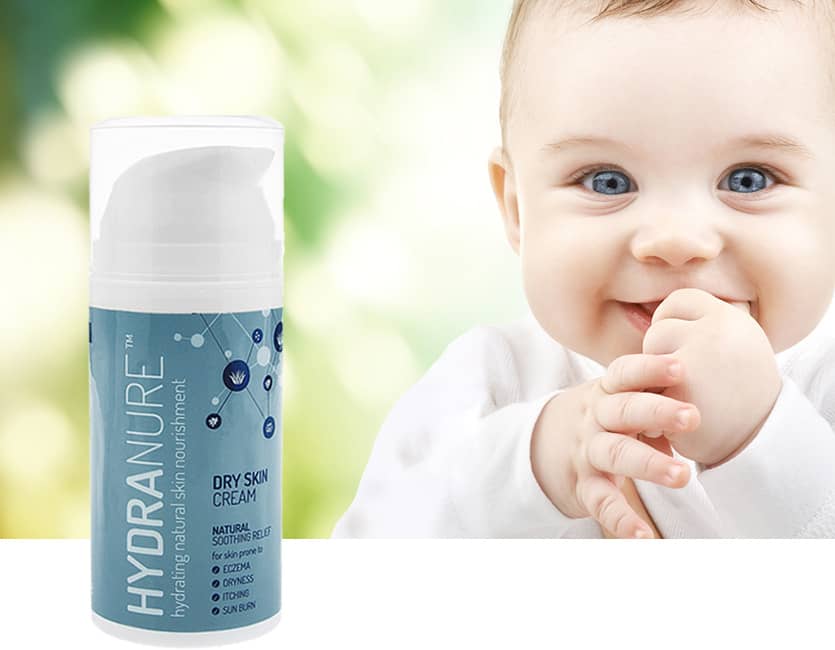 ADVICE
TIPS FOR HEALTHY, ECZEMA-FREE SKIN.
---
The tips listed below often help baby eczema and can be used along with HydraNure Dry Skin Cream.
---

BATH & MOISTURISE
Bathe in lukewarm water for 5-10 minutes, pat dry with towel then moisturise immediately. Avoid soaps and bubble bath, use natural cleansers and shampoos without harsh ingredients/fragrances.

AVOIDING IRRITANTS
Common irritants/eczema triggers could be soaps & detergents, fragrances, soap powders, pets, wool or nylon clothing (breathable cotton is best), sweat, plugin air-fresheners, cigarette smoke, etc.

MOISTURISE OFTEN
Mornings, after feeding, changing, bath, before bed, anytime dryness occurs. Always apply cream downwards, gently smooth, don't rub in. Avoid creams with perfumes, harsh chemical ingredients.

KEEP COOL
Try to keep your child's room cool year round. Airy during summer and not too warm in winter as radiators evaporate moisture in the air causing itchiness.

FOOD SUBTRACTION
Could your child be allergic to a food group? Subtract something for a time, if no change, reintroduce and subtract another. Usuals include milk, eggs, some fruit & vegetables.
A TRUSTED, AWARD
WINNING PRODUCT.